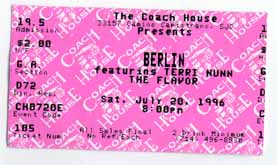 Saturday July 20, 1996 at The Coach House San Juan Capistrano. Flavor opened. Didn't find them very interesting. I think they were a local band.
Berlin came on with some hits from the past. The Metro, No More Words, & Sex really rocked. The venue had pretty good sound and I was pretty close to the front. I don't recommend the food there though. Terri Nunn seems to have found a new band but the sound was similiar to that I heard when the played the UCSD gym back in 1986. :-) She was a real crowd pleaser with her sexy moves near the edge of the stage. :-) She was in great shape and showed it with her tights/pants and a bra top.
They played a Ray Davies and an Elvis Presely cover which I haven't heard before. They also played a few new songs which were pretty cool that I hadn't heard. I liked their old stuff the best though. The show closing encore with "You Take My Breath Away" was incredible. She thanked her fans by holding hands and going offstage to give hugs. :-) Wow!