April 4, 1997 Rimac UCSD
The Rugburns opened for Jewel. I'm not a big fan of their's but they put on a good show. They are alot funnier than the last time I saw them. I liked the joke about how they use to be a 42 piece band but the other 39 guys took a spaceship to heaven and left them behind.
The had a cool backdrop for Jewel with these fake candles burning in the back. I kinda wish they had used real ones though... She played all my favorite slow songs like "1,000 Miles Away", "Angel Standing Bay", and "Adrian". :-) She got Steve Pultz and the other Rugburns to back her up on rockers like "Who Will Save Your Soul" and a new tune "Drive". The show was a good mix and slow balads and more pop songs. She played just about everything off her debut album as well as new songs I'd never heard before. A new addition was the poetry reading near the end of her show. Her poetry isn't as good as her songs but still enjoyable. She played for over 2 hours and I'd say this was her best show ever.
I kinda miss the old days where she had to carry her own guitar in and you could go up to the stage and talk to her after the show. I'll never forget how she had to put her hand on my shoulder as she pushed her way to the stage at the Innerchange coffee shop. :-)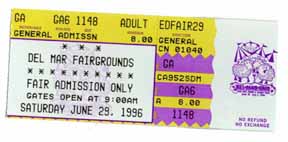 The show at the Del Mar Fair was awesome. She played for about an hour and a half covering the material off her album and some stuff not on it. Her renditions of "Race Car Driver" and "1,000 Miles" were superb. :-) Her yodeling was amusing and she made fun of The Cranberries lead singer yodeling. The venues keep getting larger but she still has that intimate quality to her show that first attracted me. I hope she doesn't get a band!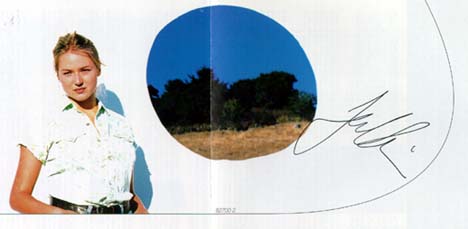 Wednesday Dec 13 at The Brick By Brick, San Diego. Blacksmith Union a local alternative band opened. They rocked the place. I heard a few tracks off their cd while browsing in local cd shops. They lay down a great beat but don't have any great songs yet. If you like Alice In Chains you may like them.

Natasha's Ghost played the next set. The female vocalist has a great voice and they had some pretty good tunes. Liked B.U. a little better though.

Jewel then came on to top off the night. :-) She played all the tracks off her cd and more. She really got us going with an energetic performance of Who Will Save Our Soul. :-) Several times during the show she would stop to tell stories about recent events in her life. I really liked the story of her vacation in Ensenada and the wild boat ride with the federales. During the encore she sang my fav song (1,000 Miles Away). It was a great show. She's much better live than on cd. I picked up a copy of her bootleg tape that had unreleased material on it. It had 1,000 Miles Away and other cool tunes. :-) This was my third Jewel concert and I'd rank it as the best even though she played a longer set while at The Innerchange Coffee Shop.